"Bexley"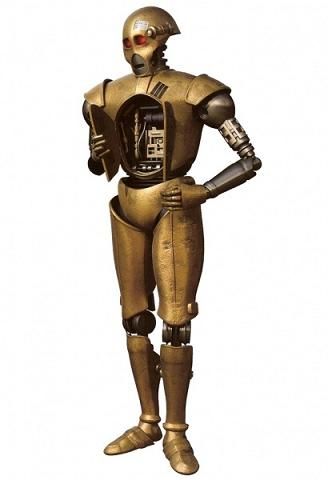 A 250 year old BLX series basic labour droid, designed for tasks ranging from construction to load lifting to sanitation. Bexley spent 200+ years as a sanitation droid on a mining ship before developing sapience and escaping his service thanks to the Clone Wars. He's come to see his time before his awakening as slavery, he funnels a portion of his pay to various pro-droid rights organizations, both legal and illegal.
Substantially upgraded from his factory configuration, Bexley has internal repair tools taken from a scrapped R4 unit, a cutting torch and arc welder. His original droid brain (damaged by Separatists in a boarding action) has been replaced with one from a RA-7 series protocol droid. He appears much as he does in the photo, though he typically wears a utility belt and holster. His chest cavity contains the flamethrower fuel tank as well as various parts for the toolkit.
Obligation: 10 (debt) 5 (Bounty)
Bex is endebted to a smuggler who got him out of hock with the company after he developed sapience and killed two security guards.
There is a standing bounty for him in Imperial space for killing the two guards.
Characteristics
Brawn 3
Agility 2
Intellect 2
Cunning 1
Willpower 2
Presence 1
Soak 5
Strain 12
Wounds 13
Skills:
Mechanic 2,
Piloting (Space) 2
Knowledge (Outer Rim) 2
Perception 2
Computers 2
Ranged (Light) 2
Brawl 2
Piloting (Planetary) 2
Ranged (Heavy) 2
Talents:
Toughened, Gearhead
Abilities: Droid
Equipment:
-Plating equivalent to Padded Armour
-Arc Welder (Melee Damage 3, Crit -,Ranged Engaged, Stun damage)
-Built in toolkit
-Magnetic feet
-Built in Comlink
-DH-17 Blaster Pistol (Dam 6, Crit 3, Range Medium, Stun Setting)
-Built-in Flame Projector (Ranged [Heavy]; Damage 8; Critical 2; Range [Short]; Burn 3, Blast

-Fitted with a fake restraining bolt.
Last edited by Aaron on Wed Feb 01, 2017 11:14 pm; edited 7 times in total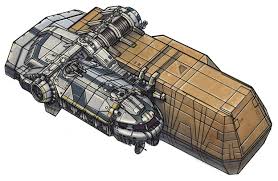 Astral Queen
Era: Rise of the Empire/Rebellion
Hull type: Transport
Ship Class: Wayfarer Class Transport
Manufacturer: Kuat Systems Corporation
Hyperdrive: Class 1.0 (Backup Class 14)
Navcomp: Equipped
Sensor Range: Medium
Ship's Complement: Pilot, Co-Pilot, Engineer, Cargo Master, 6 hands
Encumbrance Capacity: 850, can carry up to 3 Sil 3 small craft, 25 Enc in smuggling compartments
Passenger Capacity: 6
Consumables: 3 months
Cost/Rarity: 50,000/5 used
Customization Hard Points: 5/5
-High Output Ion Turbine
-Hyperdrive Generator, increase speed to 1.0
-Add Tractor Beam (Light), Add Ion Cannon (Medium), these share a mount
-Smuggling Compartments (25 Enc)
-ECM (1)
Silhouette: 5
Speed: 4
Handling: -2
Defense: 1/1/1/2
Armor: 5
Hull Threshold: 32
System Threshold: 19
Weapons:
1 Quad Laser Cannon Turret (Fire Arc: Dorsal Turret; Damage 5; Critical 3; Range [Close], Accurate, Linked 3)
Medium Ion Cannon (Fire Arc: Forward; Damage 6, Crit 4, Range Short, Ion)
Light Tractor Beam (Fire Arc: Forward; Range Close, Tractor 2)
-ventral Retractable Light Repeating Blaster (Fire Arc All, Dam 11, Crit 3, Range Long, Autofire, Pierce 1), planetary scale.
The write up on wookiepeedia claims that the ship was only ever produced with the hanger cargo pod. So I've opted to make that standard rather then use up Hard Points
Name: (Bokoy) Ch'omak
Race: Devaronian
Obligation: 15; Favor (to interstellar fixer)
Career: Smuggler (scoundrel)

Characteristics
- Brawn: 1
- Presence: 2
- Intellect: 2
- Cunning: 4
- Agility: 3
- Willpower: 2

Attributes
- Wound Threshold: 11
- Strain Threshold: 12
- Soak: 4

Skills
- Deception: 2
- Perception: 1
- Piloting (Space): 1
- Skullduggery: 2
- Streetwise: 1
- Ranged (Light): 1
- Charm: 1
- Piloting (Planetary): 1

Talents
- Convincing Demeanor: 1

Gear
- Blurrg-1120 holdout blaster pistol (enc 1, stun, short range, +1 Setback to find, modded filed front sight: innate Quick Draw talent, +1 Difficulty to find)
- KYD-21 blaster pistol (enc 1, stun, med range, modded blaster actuating module: +3 dam, +1 Pierce, +1 Setback to Ranged (Light))
- padded armor (soak 2)
- heavy clothing (soak 1)
- commlink
- 4 doses anesthetic
- general-purpose scanner (enc 2)
- scanner goggles
- 2 stimpacks
- comm jammer (enc 4)
- backpack (+4 enc)
- datapad (enc 1)
- sabacc deck

Bokoy Ch'omak (going by his given personal name Ch'omak) is a relatively typical Devaronian male - that is, one with an active innate sense of wanderlust and a desire to see and experience the galaxy.  Having no more than typical martial and physical skills, and less than typical interest in such, Ch'omak developed an affinity for - and ability to - provide for his wife (who, typically of most Devaronian marriages, remains apart from him on Devaron) through means that were not always legitimate.  In return for the employ of the skills so acquired, Ch'omak attained the assistance of a particular influential fixer in his goal of enjoying travel through the galaxy - at least, the parts that have a less-than-100%-vigilant Imperial presence.  Of course, these types of favors are rarely if ever a one-way street.

Physically, Ch'omak is of medium height and a somewhat slim build.  His skin is a uniform deep crimson and his eyes a very dark purple, shot through with the bit of silver common to Devaronians.  His horns are angled back somewhat along the line of the skull and recurved upward just at the tips, and are delicately engraved with a number of designs reminiscent of tattoos.  He wears a heavy duster over padded gear, and the high boots common to his people.
Last edited by mikey on Sat Feb 04, 2017 11:03 pm; edited 14 times in total

mikey

User





Posts

: 346


Join date

: 2013-06-05


Age

: 104


Location

: Jersey Devil



Name: R4-PT109 ("Petey")
Race: R4-P series astromech droid
Obligation: 20 (as Ch'omak)
Career: Technician (slicer)
Characteristics
- Brawn: 2
- Presence: 1
- Intellect: 5
- Cunning: 1
- Agility: 2
- Willpower: 1
Attributes
- Wound Threshold: 12
- Strain Threshold: 11
- Soak: 5
Skills
- Astrogation: 2
- Computers: 2
- Mechanics: 2
- Knowledge (Outer Rim): 2
- Knowledge (Underworld): 2
- Gunnery: 2
- Stealth: 1
Talents
- Codebreaker
- Technical Aptitude
- Bypass Security
- Enduring
Gear
- padded armor droid skin
- droid brain implant w/ holo-messenger (incl. long range commlink, computer access link)
- electrobinocular device (enc 1)
- general purpose scanner (enc 2)
- comm scrambler
- slicer gear (enc 2)
- tool kit (enc 4)
- gear stabilization frame (as backpack)
"Petey," as he is known to Ch'omak and his associates, is the astromech flight engineer/slicer that has been with Ch'omak since midway through his career - Petey was part gift, part tool assigned to Ch'omak by the benefactor who employs/assists him.  Without either a desire or facilities for regular factory-recommended brain maintenance, Petey has been able to develop something of a personality.  Since he has recently been able to share astrogation and technician duties with a nav computer and some other crewmates, Petey has become somewhat curious and inquisitive, both professionally and about organics, without all the checks and filters that organic sentients usually have.  Physically he is a typical R4-P series, in a pale grey with a grey and white dome set off by a black ring.  Petey's superstructure is reinforced by some light installed armor and a load-bearing stabilizing frame.
Last edited by mikey on Thu Feb 09, 2017 1:05 pm; edited 2 times in total

mikey

User





Posts

: 346


Join date

: 2013-06-05


Age

: 104


Location

: Jersey Devil



Fenda Castor

Fenda was a promising young surgeon in the Imperial Surgical Corps on Corellia when she stumbled across a secret project being conducted by Grand Moff Fliry Vorru; she was brutally tortured and brainwashed to erase her memory with the intention of sending her back to her unit, but she escaped during the procedure and fled into the Outer Rim. She is still deeply traumatized by the experience, often losing her train of thought, and experiences frequent anxiety attacks and wild mood swings. Her memories of her life before her escape are spotty and fragmented, but her medical knowledge and skills are mostly intact. As a result of her ordeals, she is less likely to care about or notice the stress of a situation, and her default demeanor is calm and orderly.

Species: human
Sex: Female
Height: 5'6"
Weight: 120
Age: 26

Obligation: 10 (bounty)
Career/Specialization: Colonist/Doctor

Characteristics
Brawn: 2
Agility: 3
Intellect: 4
Cunning: 2
Willpower: 2
Presence: 2

Soak: 4
Strain: 12
Wounds: 12

Skills
Cool: 1
Deception: 1
Knowledge (Education): 1
Knowledge (Lore): 1
Medicine: 1
Negotiation: 1
Ranged – Light: 1
Stealth: 1

Talents
Surgeon 1
Bacta Specialist 1
Stim Application

Gear
SC-4 blaster pistol (dam 6, crit 3, medium range, encumbrance 1, HP 3, stun setting)
Heavy clothing (def 0, soak 1,  carry encumbrance 1, hardpoints 0)
Padded armor (def 0, soak 2, carry encumbrance 2, hardpoints 0)
Comlink
Anesthetic x10 (encumbrance 0) pg. 172
Athakam MedTech First Responder Medpac (encumbrance 2) pg. 177
Athakam MedTech Stimpack (encumbrance 0) pg. 177
Imperial Army ration packs x10 (encumbrance 0)
backpack (+4 encumbrance threshold)
thermal cloak (encumbrance 2)
datapad (encumbrance 1)
fusion lantern (encumbrance 2)
utility belt (+1 encumbrance threshold)
_________________
There is only one way of avoiding the war – that is the overthrow of this society. However, as we are too weak for this task, the war is inevitable. -L. Trotsky, 1939
Heinf Fer

Name: Heinf Fer
Race: Human
Obligation: 10
Career: Grey – Force Sensitive
Exp 110/110
Characteristics
- Brawn: 2
- Presence:2
- Intellect: 2
- Cunning: 2
- Agility: 2
- Willpower:2

Attributes
- Wound Threshold: 12
- Strain Threshold: 12
- Soak: 3

Skills
- Melee 2
- Stealth 2
- Athletics 2
- Perception 1
- Streetwise 1
- Vigilance 1
- Coordination 1
- Skulduggery 1

Talents (lvl / cost)
- Uncanny Reactions
- Uncanny Senses
- Insight
- Forager
- Convincing Demeanor
- Quickdraw
- Stalker
- Dodge

Gear
- Heavy Clothing + AEG
- Double-Bladed silver Lightsaber (10 dmg, crit 1, Ecm 1, Breach 1, Sunder, Vicious 2)
Thaant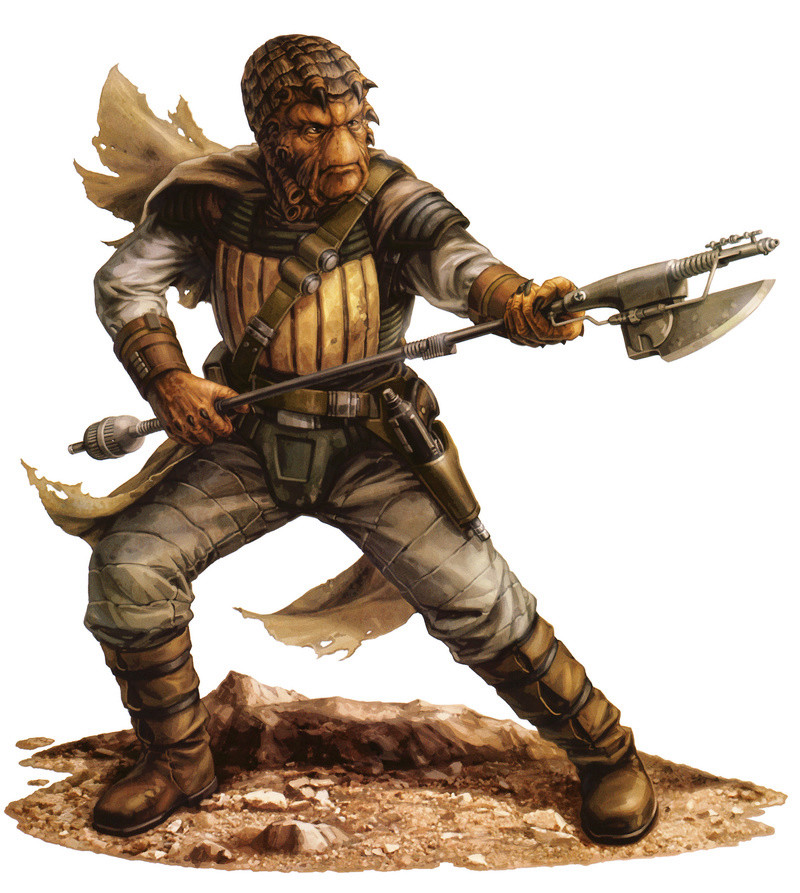 Kidnapped from his homeworld by a Hutt gangster and forced into slavery at a young age, Thaant developed a strong dislike of the slugs. When he was sold to a Separatist leader, he thought his fortunes would improve, but instead of toiling in Hutt mines, he was now forced to learn to fight for the amusement of his masters. During the Clone Wars, he was captured by pirates, where he was forced to serve as a cargo loader, before finally being freed by the crew of the
Astral Queen
. He swore an oath to protect the crew with his life, if necessary; an oath he takes very seriously. Since joining the
Queen
, Thaant has developed a taste for gambling, and enjoys relaxing and sleeping during his off hours in order to, as he says, "Make up for lost time."
Species: Nikto
Sex: Male
Height: 6'2"
Build: stocky
Age: 24
Obligation: oath 10
Career/Specialization: Smuggler/Gambler
Characteristics
Brawn: 4
Agility: 2
Intellect: 2
Cunning: 2
Willpower: 2
Presence: 1
Soak: 5
Strain: 13
Wounds: 16
Skills
Computers: 1
Coordination: 2
Deception: 1
Perception: 1
Resilience: 1
Skulduggery: 2
Vigilance: 2
Melee: 2
Talents
Toughened 1
Grit 1
Convincing Demeanor 1
Special Abilities
When making skill checks, Red Niktos may remove one setback die imposed due to arid or harsh conditions.
Gear
force pike (dam +3, crit 2, engaged range, encumbrance 2, HP 3, pierce 2, vicious 1, stun setting, two-handed)
- serrated edge
- weapon sling
heavy clothing (def 0, soak 1,  carry encumbrance 1, hardpoints 0)
comlink (long range) (encumbrance 2) pg. 171
electrobinoculars (encumbrance 1) pg. 175
general purpose scanner (encumbrance 2) pg. 175
surveillance tagger pg. 176
ration packs x10 pg. 179
breath mask (encumbrance 1) pg. 179
space suit (encumbrance 4) pg. 179
climbing gear (encumbrance 1) pg. 180
sabacc deck
chance cubes
glow rod (encumbrance 1)
backpack (+4 encumbrance threshold)
datapad (encumbrance 1)
utility belt (+1 encumbrance threshold)
_________________
There is only one way of avoiding the war – that is the overthrow of this society. However, as we are too weak for this task, the war is inevitable. -L. Trotsky, 1939

---
Permissions in this forum:
You
cannot
reply to topics in this forum