Character sheets and all stat stuff in here.
Player





Posts

: 635


Join date

: 2011-05-28


Age

: 41


Location

: Timepire Mobile Command Center (Canada)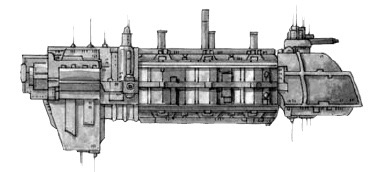 Paisley Park
An old Imperian Navy transport, originally designed to operate as a tender for destroyer squadrons. The lack of activity in the Halo Stars and her age has resulted in the Navy using her largely as a search and rescue vessel and fast transport thanks to her high speed. Not particularly well armed or equipped for naval warfare, she can see off the average pirate but anything better armed will have to be outrun.
She carries various small craft:
Two Aquila class shuttles,
Lemmy
and
Ziggy
. A handful of heavy cargo lighters and three Arvus class lighters, one general cargo model and two that have been fitted with specialist auspex gear, an emergency medicae station and cargo bay airlock to allow them to operate as SAR craft.
The ships armoury contains what you would reasonably expect to find onboard a Naval ship on the frontier. Food and accomodations are comfortable if basic and the crew is well drilled if inexperienced. They've never worked for the Inquisition before but the skipper, Commander Hanz Reinhardt is eager to help.
Player





Posts

: 635


Join date

: 2011-05-28


Age

: 41


Location

: Timepire Mobile Command Center (Canada)



Commissar Rossus Bith
homeworld: Schola Progenium
rank: Commissar-select
divination: "Die if you must, but not with your spirit broken."
gender: male
build: fit
height: 1.75m
weight 75kg
skin: fair
hair: red
eyes: green
age: 26
XP spent: 1900
wounds: 13
Fate points: 2
quirk: wears battered naval rank pin as a pendant

basic skills
Common Lore (Administratum, Ecclesiarchy, Imperial Creed, Imperium, War)
Scholastic Lore (Philosophy)

advanced skills
Awareness
Charm
Inquiry +10
Scrutiny
Speak Language (Low Gothic, High Gothic)
Literacy
Command
Common Lore (Imperial Law, Commissariat +10, Imperial Navy)
Scholastic Lore (Commissariat)
Forbidden Lore (Heresy)
Interrogation

WS: 38
BS: 34
S: 35
T: 30
Ag: 27
Int: 33
Per: 36
WP: 36
Fel: 40 (simple advance)

Talents and Traits
Melee Weapon Training (Primitive, Chain)
Pistol Weapon Training (Las, SP)
Basic Weapon Training (SP)
Unshakeable Faith
Peer (Imperial Navy)
Nerves of Steel
Paranoia
Air of Authority
Insanely Faithful
Iron Discipline
Tempered Will
Sheltered Upbringing

gear
chainsword (mono)
punch dagger (mono)
Hecuter 9/5 SP pistol w/ 4 mags standard, 2 mags man-stopper rounds
shotgun pistol w/ 6 shells, 6 blazer shells
Series-S Venom laspistol
flak greatcoat
commissarial headgear
mirker's greaves
silver Aquila charm
chrono
personal grooming kit
emergency kit
ploin juice
5 tubes' melta gel
void suit
environmental bodysuit
IR goggles
Last edited by mikey on Tue May 24, 2016 9:58 am; edited 4 times in total
WS: 34
BS: 40
S: 32
T: 33
Ag: 40
Int: 35
Per: 31
WP: 31
Fel: 31
Wounds: 13
Fate Points: 3
Insanity Points: 0
Corruption Points: 0
Thrones: 15

Name: Garr, Last of the 326th
Homeworld: Battlefleet Calixis
Career: Scum (Reclaimator)
Rank: Outlaw
Gender: Male
Build: Spindly
Skin Color: Porcelain
Hair Color: Nil
Eye Color: Violet
Age: 30
Quirk: You are completely hairless.
Ship Tradition: Warship
Divination: Know the mutant; kill the mutant.+2 Per
Starting XP: 1900 (1850 used, 50 left)
Starting Package: None

Traits: Shipwise, Void Accustomed, Naval Lineage Skills, Close-Quarter Fighter, Officer on Deck

Basic Skills: Navigation (Stellar) (Int) (Shipwise), Pilot (Starcraft) (Ag) (Shipwise), Common Lore (Tech) (Int) (Nav. Lin. Sk.), Deceive (Fel), Awareness (Per), Dodge (Ag)

Advanced Skills: Speak Language (Ship Dialect) (Int), Speak Language (Battlefleet War Cant) (Int) (Nav. Lin. Sk.), Speak Language (Low Gothic) (Int), Blather (Fel), Common Lore (Imperium) (Int)

Talents: Basic Weapons Training (SP), Melee Weapons Training (Primitive), Pistol Training (SP), Basic Weapons Training (SP), Ambidextrous



Purchased Advances:

Awareness +10
Evaluate
Search
Trade (Technomat)
Trade (Technomat) +10
Tech Use
Sound Constitution x 2
Medicae 200
Heightened Senses (Hearing)
Security
Ballistic Skill Advance 1&2
Fellowship +5
Agility +5

Gear:

Pump Action Shotgun, 34 buckshot shells, 16 inferno shells on two bandolieers
Scipio Pattern Naval Pistol and 3 clip
Short Sword
Naval Flak Vest and Helmet
Standard Naval work dress aka ships coverall w/Commissarat insignia (Good Quality Clothing),
Combat Knife (Bayonet)
Multikey
glow lantern (memento),
leather pouch (memento)
lamp pack
emergency kit
ploin juice
5 tubes' melta gel
void suit
environmental bodysuit
Player





Posts

: 635


Join date

: 2011-05-28


Age

: 41


Location

: Timepire Mobile Command Center (Canada)



Space holder for when you guys finally meet my guy... lol
Player





Posts

: 529


Join date

: 2011-05-27


Age

: 36


Location

: Maryland, USA



Astropath Eli Yannis
homeworld: Mind-cleansed
rank: astropath-aspirant
divination: "A suspicious mind is a healthy mind."
gender: male
build: wiry
height: 1.75m
weight 65kg
skin: fair
hair: bald
eyes: n/a
age: 51
XP spent: 1700
unspent XP: 200
insanity points: 4

wounds: 13
Fate points: 3
quirk: eyes replaced with steel balls

basic skills
Common Lore (Tech)
Scholastic Lore (Survival)

advanced skills
Deceive
Intimidate
Speak Language (Low Gothic)
Psyniscience
Invocation
Trade (Soothsayer) +10
Literacy +10
Forbidden Lore (Warp, Psykers)
Scholastic Lore (Occult, Legend)
Ciphers (Acolyte)
Secret Tongue (Acolyte)


WS: 29
BS: 26
S: 26
T: 30
Ag: 30
Int: 39 (simple advance)
Per: 40 (simple advance)
WP: 50 (simple advance)
Fel: 22

Talents and Traits
Melee Weapon Training (Primitive, Shock)
Pistol Weapon Training (Las, SP)
Jaded
Imperial Conditioning
Resistance (Psychic powers)
Unreadable Mind

gear
Psykana mercy blade
officer's cutlass (mono)
Astra Telepathica staff
Armsman-10 pistol
Astra Telepathica robe
Emperor's Tarot deck
psy-focus
flak jacket and helmet
environmental bodysuit
ploin juice
data slate
void suit
3 thrones

psychic powers
sense presence
resist possession
inflict pain
distort vision
touch of madness
white noise
Last edited by mikey on Thu Jun 09, 2016 12:55 pm; edited 1 time in total
Naval armsmen

WS: 35
BS: 35
S: 35
T: 35
Ag: 30
Int: 30
Per: 30
WP: 30
Fel: 30

Wounds: 10

Skills: Awareness, Climb, Common Lore (Imperial Navy,) Intimidate, Speak Language (Low Gothic,) Tech-Use

Talents: Basic Weapon Training (SP,) Pistol Weapon Training (SP,) Disarm, Melee Weapon Training (Primitive,) Takedown
* shotcannon trooper also has Heavy Weapon Training (SP)

Gear: boarding armor, microbead, emergency kit, short sword, Ironclaw shotgun with regular/void/blazer rounds and boarding pike or Armsman-10 pistol with regular/void rounds and naval shield or (1x) shotcannon, 2x stun grenades and 1x smoke grenade


Sergeant-at-Arms Kam Howruck

WS: 40
BS: 40
S: 35
T: 35
Ag: 30
Int: 30
Per: 30
WP: 30
Fel: 30

Wounds: 13

Skills: Awareness, Climb, Common Lore (Imperial Navy, War,) Intimidate, Speak Language (Low Gothic,) Tech-Use

Talents: Basic Weapon Training (SP,) Pistol Weapon Training (SP,) Disarm, Melee Weapon Training (Primitive, Shock,) Takedown, Quick Draw

Gear: boarding armor, microbead, emergency kit, officer's cutlass, Irontalon pistol, 5x meltagel



---
Permissions in this forum:
You
cannot
reply to topics in this forum